Welcome to Vita Essential Salon
Our Philosophy at Vita Essential Salon is to bring balance between the world of high fashion and one's personal inner beauty. Offering natural, effective products and precision styling is the key to lifelong beauty. We boast award-winning stylists that have knowledge in all aspects of hair. Our comfortable atmosphere and kind staff will have you feeling "at home" the moment you walk in. We encourage all inquiries and offer free, at length consultations to anyone looking to change or even just "refresh" their look. With our expert stylists and unique products lines, we are sure that you will be satisfied with your experience.
Our customers' loyalty is extremely important to us. We feel that not only our new clients should be rewarded with discounted services. That is why we offer our client referral and client loyalty programs to thank our clients for recommending us. We are proud to say that we have the best clients anyone could ever ask for!
We continuously strive to maintain a "green" salon. The word Vita simply means Life. We strive to respect all life on the planet and find this attitude essential. It is important that businesses exercise conservation efforts while maintaining the integrity of their service. This is the concept of the entire salon. Vita Essential Salon practices reducing waste, rigorous recycling, energy conservation and offers products that are the result of sustainable harvesting. It's no coincidence that the opening day of the salon is Earth Day!
Our New Location in Perkasie is Now Open!
We are conveniently located in beautiful downtown Perkasie, PA, nearby many unique shops and restaurants. Call today to schedule an appointment.
Hours are by Appointment Only. 
113 S 6th Street, Perkasie, PA 18944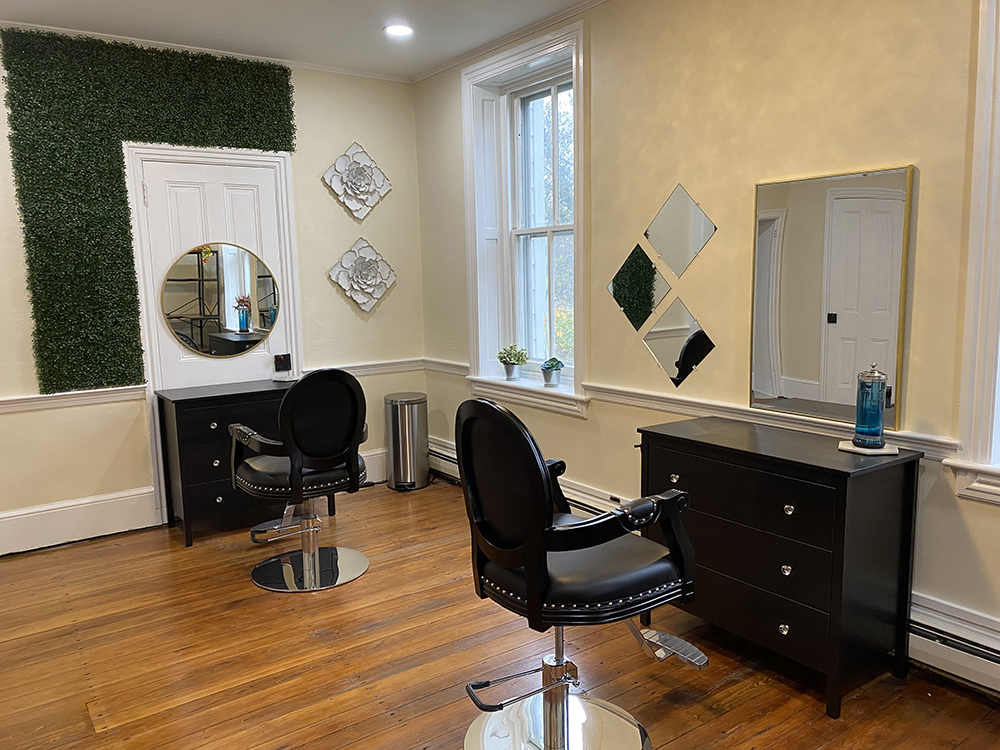 Here's what our clients have to say about Vita Essential Salon
"I have been a customer and a fan for the past nine years. Tina has been my hair stylist for much longer. I was lucky to have my most recent appointment today as they celebrated their birthday and Earth Day. I thank Tina and Kristin for another enjoyable visit. As always, Tina did an amazing job on my hair color and cut. The atmosphere of Vita Essential is welcoming and relaxing. I highly recommend Vita Essential for all of your hair care needs. And the mimosas weren't bad either…"

– Theresa
"I have been at Vita Essentials with Tina since she opened 9 years. She has been doing my hair for 16 years! She is a talented stylist and great person. Love her. I highly recommend the salon."
– Karen
"Love, love, love Vita Essentials! I've been going to Tina for years and I'm never disappointed. It's a good feeling to know that every time it's going to look just as good as the time before. I also appreciate her flexibility to get me in when it's convenient for me. Thanks Tina!"
– Ronnie
"I've been going to Vita Essentials since it opened and Tina was doing my hair for years before opening VE! I've had long hair, short cuts, colors, and up dos. Tina has done the hair and makeup for two of my children's weddings and cuts my husband's hair, too! Couldn't be happier with all my styles! And as an added bonus, the conversations are always interesting!"
– Mary Ann
"I've been going to Tina at Vita Essential Salon for years! I love how she does my hair. Not only do I always get compliments about my color and cut but her prices are really reasonable too. I highly recommend her!"
– Emily
"The ONLY place that does an excellent job! I have never left unhappy."
– Kristen
"Wonderful salon for prom hair! So far I have started off prom day with 2 of my daughters here getting pretty!"
– Tanya